About the teacher training centre
IH Belgrade is the only University of Cambridge accredited centre for CELTA teacher training in Serbia. It's rare to find a centre which offers so much individual support for every trainee.
IH Belgrade opened in 1991 and we have had nearly 30 years of experience in language teaching and teacher training. We specialise in teacher training, English for specific purposes language training and translating.


During nearly 30 years of our operations, more than 6000 students have learned a foreign language and many of them enrolled universities all around the world or have been promoted thanks to their excellent results in international language tests. We continue to implement the latest developments in language teaching and learning in our work.
IH Belgrade is located in the very centre of Belgrade, in a vibrant area called Vracar, close to all transport connections and walking distance from the theatres, famous Belgrade restaurants and sights.
What is CELTA
The CELTA is a TEFL qualification which prepares you to teach English as a foreign language. You don't need any existing English language teaching experience or training. It's usually a 4 or 5 week full time course (but you can also take it part time).
Standing up in front of a class for the first time is a daunting prospect, so you need to make sure you have the skills you need to teach effectively. The CELTA prepares you for the classroom in these ways:
Taught sessions on methodology, lesson planning, language analysis and language skills. (In total, you'll have 120 hours of input.)
The opportunity to observe experienced teachers in real-life language classroom situations – so you can see the different skills and techniques they use.
Teaching yourself – with helpful and detailed feedback from your tutors.  This practical experience is invaluable when you start your first job.
You'll have to complete some written assignments as well, but when it's all successfully completed you'll be ready for your first job and first students!
Read more about the CELTA here 
CELTA Online with IH Belgrade
In response to unprecedented conditions with coronavirus, it's now possible to take a 100% CELTA online with the same great teacing team from IH Belgrade.
The Cambridge CELTA Course Online (or CELTA Online) is a flexible way to take CELTA. It leads to the same CELTA qualification and is assessed and moderated according to the same criteria.
Like the face-to-face CELTA course, CELTA Online has a significant practical component. You will complete 6 hours of assessed teaching practice in groups in an online classroom, from the comfort of your home! 
More details about CELTA 100% Online
CELTA at IH Belgrade
We are an established centre with more ten years of high quality teacher training reputation. and we offer so much individual support  for  every trainee.
We have a pool of international trainers working with us on multiple courses, such Mike Cattlin, Tim Bowen, Anna Edgar, Annette Szymanski, Emily Bell, David Valente, Darren Bell, Dean Russell, Jackie Jordan, Tim Jones, Francis Traynor, Margaret Horrigan who all joine our local tutor Zorica Kovacevic. 
Join the club! More than 500 teachers finished our CELTA courses.
CELTA teachers we have trained work on all continents and have a successful teaching career.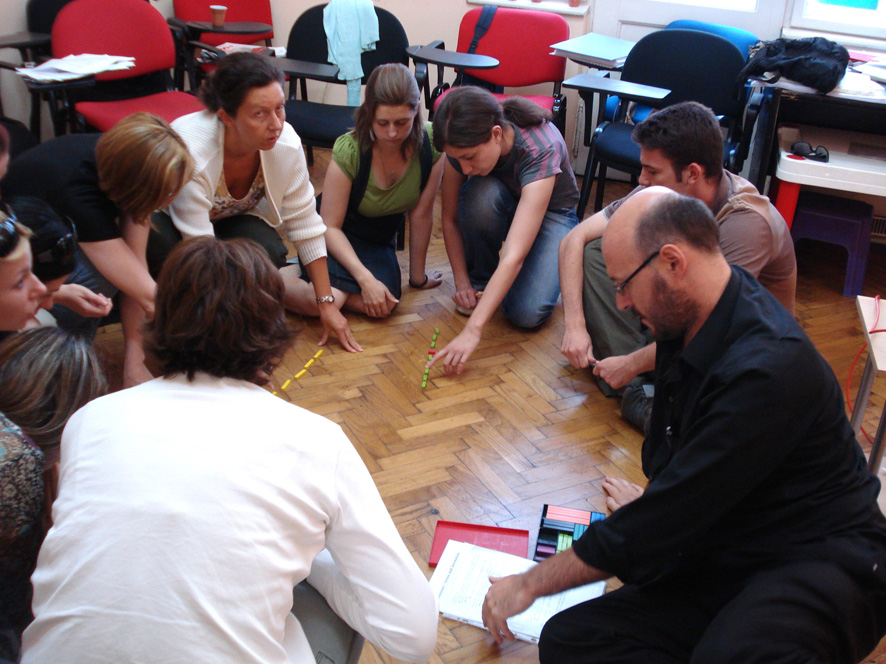 At IH Belgrade you will have:
24h access to all resources;

international team of expert tutors approved by Cambridge English Assessment;

tutors who make sure you develop your potential to become a great teacher;

help of all tutors every single day of your course;

excellent methodology resources;

and, you will enjoy your stay in Belgrade which never sleeps
We have an international mix of trainees and they would typically be from the UK, USA, France, Austria, Italy, Greece, Tunisia, Morocco, New Zealand as well as from Serbia and the neighbouring countries.
Most of our trainees are under 30 but we also have those who are 30-40+ years old.
IH Belgrade really pays attention to the personal touch, respecting all cultures, races and backgrounds and our trainees feel at home when on our courses. It reduces the stress of the intense course and the groups really work well.
Your CELTA colleagues will be your life long friends and you will help each other during the course.
Tutors at this training centre
CELTA Student Testimonials
It was a pleasure working with all the people there. Although the course was highly intensive, we had more than adequate support from all the people involved in this course. I'd recommend this course wholeheartedly to everyone willing to learn something new and develop professionally. S. Zolota

 

What made the course challenging is the fact that it is so intense. What made it easier is the fact that the tutors were truly helpful with their constructive criticism and good examples. Also, I feel we were all lucky to get on so well. M Ankic