If you are teaching a subject such as history, science or maths, at primary or secondary level, this course will develop your skills in delivering that subject in English using the communicative method. 
You'll gain practical ideas you can use straight away in your classroom, and in-depth teaching strategies for planning and teaching successful CLIL lessons. 
You may be working in a private language school, an international school, or a mainstream state school. Either way, this course is for you!
Price
The complete course price is £325 plus 20% VAT if you will be taking this course while in the UK, or your employer is a UK based company. 
If you have completed an online course with IH OTTI in the previous 12 months, there is a loyalty discount of 10%. The IH staff price is £276. Just let us know on the application form if you would like to claim these discounts. 
If you are a teacher in a state school, please indicate this on the application form, and you may be eligible for a discount as well.  
What is CLIL?  
Content and Language Integrated Learning (CLIL) is when a school subject (maths, biology, geography, etc) is taught in a language that is different to the learners' mother tongue. So learning objectives for each lesson are combined - primarily the subject, and secondarily English Language.
Many state schools and international schools look to recruit teachers who are skilled in CLIL, so they can help their students improve their English as well as mainstream curriculum subjects.
Is this Introduction to Teaching CLIL course for me?
Any teacher who uses English in a subject classroom can benefit from taking this course.
Teachers in primary or state schools, international schools, or language teachers helping subject teachers, will all benefit from this course.
Whilst many language teachers will be familiar with using another subject to enrich their teaching of particular vocabulary or grammar points, this course will go into more depth on the theoretical background.  
This course is designed for you if you:
Are currently teaching

Have an English level of at least B1

Have some experience teaching kids or teenagers
Is this course for me if ...
...  I teach large classes?
Yes. Large classes, with thirty or fifty students will always be a challenge to manage. This course will give you strategies to deal with their every day challenges. Producing language and achieving subject learning outcomes underpin all the techniques, whether they are pair work or small group work. Formative assessment strategies, specifically for large groups, are also covered. 
... I have students with different levels of English?
Yes. CLIL teachers often find students who struggle in more traditional classes are more engaged and participate better in CLIL lessons because they are active. To help students with different language levels benefit linguistically, scaffolding is one of the most effective techniques. The course will cover practical ways to achieve this with examples from CLIL materials.
... I know a little bit about CLIL already?
Yes. Although the course is an introduction, it definitely goes into the theory behind the practice in detail (but not in a boring way, honestly!). So, teachers with some knowledge of CLIL will benefit from it. As far as possible, the theory and concepts presented in the course are explained using simple language to make them accessible to teachers of any subject. 
... I teach in a government school with a set curriculum?
Yes. Each teaching context is unique, but the course offers a wide variety of options for teachers and even if you can't use them all, there will certainly be at least some things you can use in your own classroom.
 
What is the content of the Introduction to Teaching CLIL course?
This is a blended course with both live and self-study (asynchronous) components. Your group will have a tutor to guide and help you, and there are discussion forums where you can exchange ideas with your fellow group members.
Each week starts with a live session of 90 minutes. This will be on a weekday, probably around 13:00 UK time, but will be agreed between the course participants at the time. Live sessions will also be recorded for those who cannot attend.The rest of the weekly material is online, ready for you to access in your own time when it suits you.
There are four modules in this course, one covered each week, each focusing on a different aspect of CLIL. 
Module 1: Definitions and Theoretical Underpinnings
Definitions and different models: soft and hard CLIL

CLIL aims: dual focus on content and language

Teacher competences: What does a CLIL teacher do?

Theoretical underpinnings: The four Cs and the three Ds of CLIL

What does CLIL look like in practice?
Module 2: Planning and Execution of a CLIL Lesson
Defining learning objectives

Task complexity and sequencing: from input to output

Identifying academic language demands

Scaffolding content, scaffolding language
Module 3: Materials
Selecting CLIL materials

Adapting materials for the CLIL classroom

Creating CLIL materials

Identifying cognitive and linguistic challenge: Cummins' quadrants
Module 4: Assessment in the CLIL classroom
Content, skills or language, what do we assess?

Summative assessment: what makes a good exam question?

Formative assessment: tips and techniques

Backwards design
Frequently Asked Questions
Are there live sessions? Yes! There will be one live session each week, with the rest of the course being self-study so you can access the materials whenever it suits you.  
What time are the live sessions? Live sessions will be held on a weekday, at a time agreed with participants. Generally we find 13.00 UK time works for most locations. If we have a lot of students in split time zones we will run the live sessions at two different times to accommodate this. Sessions will also be recorded for those who cannot attend.
Do I have to be teaching now? Yes, you need to be teaching to test out what you are learning.  
Do I have to buy and read other books? No. We provide all the materials that you need. There is some suggested reading, but none of the suggestions are essential. The course explains all the concepts clearly enough so that the background reading is optional, so there is no need to worry if there are few reference books available in your school staffrooms.  
Can I join after the start date? Sorry, no. Your whole group learns together to discuss themes and topics, so you need to be there from the start.
What time do I need to devote to studying? We recommend about 3-5 hours each week reading, completing tasks, and joining in the discussion forums. 
How many people will be in my group? Usually between 8 and 12.
Will I get a certificate? Yes. See below!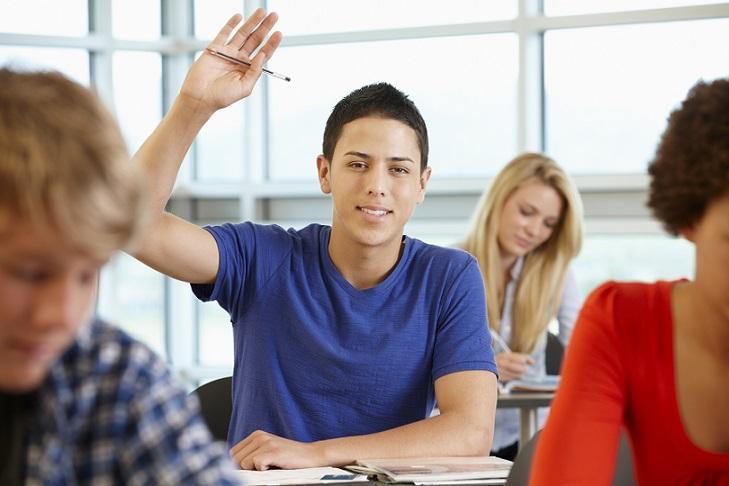 Applications
Please note online applications close on the Wednesday before the course starts. But we sometimes have late availability, so please get in touch with the admissions team on ihotti@ihworld.com and we will see if there are any last minute spaces. 
Duration
The duration of the course is 4 weeks, covering one module each week.
Your time commitment
The time commitment will vary depending on participant involvement in the online discussion forums, but as a minimum this should be three to five hours per week. Study hours are flexible but there will be tasks that require group input and have set deadlines. The more time and effort you put into the course, the more you will get out of it.
Your fellow course participants and online community
The number of course participants will be at least eight (that is our minimum).
The discussion forums that create an online community are what participants really value about this course. You can share best practice tips, exchange ideas, and discuss experience.
This course is not purely about self study all on your own - it's about making the most from these conversations and learning from each other as well as from the course material and your tutors.
Assessment
Tutors will mark your tasks and assess your progress throughout the course, offering the chance to resubmit if necessary. Each of the four modules has an integrated assessed task which is completed during the course. Participation is also an essential part of this course, and is a contributing factor to your final grade. The final grade is pass/fail. Your work will be moderated by the IHWO Assessment Unit.  
Your verified digital certificate
On successful completion of this course you will receive a digital certificate. This is stored securely on a verified site, so everybody can be confident that it is authentic and real.
It will look like the image below: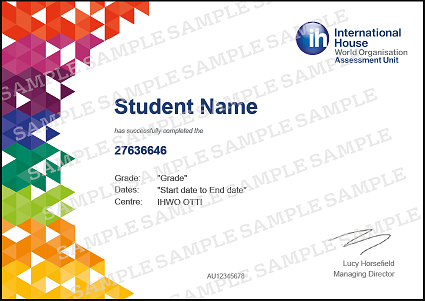 You can share this with a prospective employer, client, or anybody else that you choose.
A digital certificate is more safe and secure for you than paper – it won't get lost in the post, it won't get damaged over time, and won't get lost. It is always available, you can share in just one click, or you can print as many copies as you like whenever you would like. And, it's better for the environment. Reducing paper, ink, and delivery means a lower carbon footprint.
Click here for a short video about verified digital certificates from our partner Accredible.
Tutors
Your tutors will be experienced  in using CLIL, and are qualified online teacher trainers. 
Meet our IH OTTI tutors here! 
More 100% online, part time, courses
Find other specialist courses which can boost your TEFL career from the IH Online Teacher Training Institute (IH OTTI).
Whichever course you take you'll have a dedicated tutor to guide and support you and a group of peers to have discussions and share ideas with, so you'll feel part of an online community.
And all courses are online and asynchronous so you can access the information whenever it suits you.