About the teacher training centre
IH Prague is large and vibrant school with about 50 English teachers, a large teacher training department, and teachers of German, French, Italian and other languages. It's a very cosmopolitan environment! Training or working within this long established and supportive team will provide a great boost to your career.
A group of 15 Czech English language teachers opened the school in 1988, and we are proud to still be a cooperative, owned by most of the permanent staff. 
IH Prague is conveniently located close to the metro, only 10-minutes' ride to Wenceslas Square or 20-minutes to Charles Bridge. It is surrounded by a large garden with trees, benches and red squirrels. We also have a library and cafe in an adjoining building. With Prague being such a popular tourist destination, our course participants appreciate being able to live and study in a quiet residential area away from the hustle and bustle of downtown Prague.
What is the CELTA?
The CELTA is a TEFL qualification which prepares you to teach English as a foreign language. You don't need any existing English language teaching experience or training. It's usually a 4 or 5 week full time course (but you can also take it part time).
Standing up in front of a class for the first time is a daunting prospect, so you need to make sure you have the skills you need to teach effectively. The CELTA prepares you for the classroom in these ways:
Taught sessions on methodology, lesson planning, language analysis and language skills. (In total, you'll have 120 hours of input.)

The opportunity to observe experienced teachers in a real-life language classroom situations – so you can see the different skills and techniques they use.

Teaching yourself – with helpful and detailed feedback from your tutors.  This practical experience is invaluable when you start your first job.
You'll have to complete some written assignments as well, but when it's all successfully completed you'll be ready for your first job and first students!
Read more about the CELTA here 
CELTA Online with IH Prague
An Early-bird fee of € 1190 is available to those who pay in full at least one month before course starts. 
100% online CELTA means that you can continue with your career development in a safe environment – your own home! In this Full Time Online CELTA, you'll learn with tutors in a real (virtual) classroom (this is not based on self study of course materials). You'll also learn extra valuable skills of teaching live in an online classroom.
Prague's timezone is CET — Central European Time so bear this in mind when booking your CELTA. 
What's special about this is 
Full Time - you'll complete in 4 weeks

Live online classes with tutors ( not based on self study)
This is a flexible way to take CELTA. It leads to the same CELTA qualification and is assessed and moderated according to the same criteria.
Like the face-to-face CELTA course, CELTA Online has a significant practical component. You will complete 6 hours of assessed teaching practice in groups in an online classroom, from the comfort of your home! 
Face to Face CELTA at IH Prague
An Early-bird fee of € 1190 is available to those who pay in full at least one month before course starts.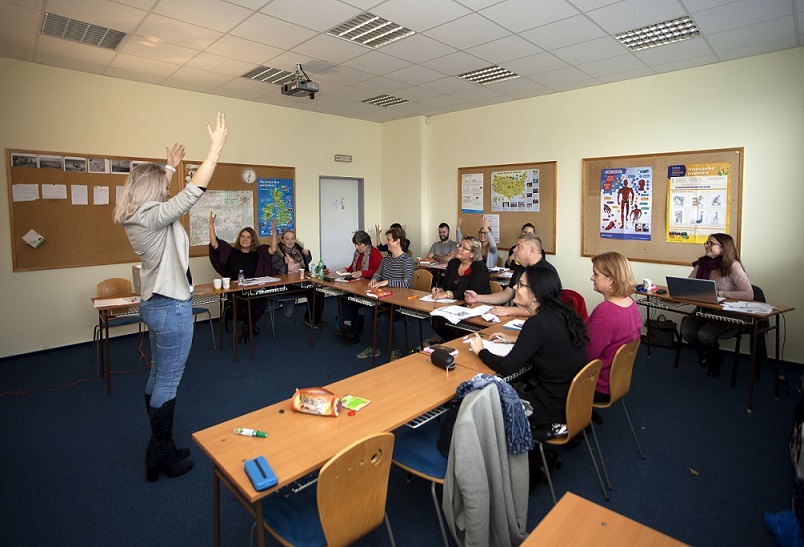 We have been training people on CELTA and Delta courses for the past 20 years, but we don't think we know it all. As a centre we believe we are innovative, open-minded and friendly. We normally run two Delta courses per year and 14 CELTA courses, with approximately 200 graduates.
Being in the very centre of Europe, our course participants come from a wide variety of countries, cultures and backgrounds. We don't normally run courses with more than 12 candidates.
A few statistics from the past two years:
people with some teaching experience 38%, 

people with no teaching experience 62%

people under the age of thirty 42%, 

people over the age of thirty 58%

native English speakers 46%, 

non-native English speakers 54%

people already living based in Prague 33%, 

people coming to take the course from another country 67%
A vast majority of our CELTA graduates find teaching positions easily after the completion of the course and some even stay at our school as full-time or part-time teachers. About 70% of our graduates leave the Czech Republic to live and work in their dream locations. Judging from the number of references we are asked to write and on the email correspondence we have with them, they have little difficulty finding jobs.
A few examples of when we hear from our graduates:
"I'm now an Academic Manager at British Council South Korea." Debbie-Anne Stewart

"In Shanghai teaching English." La Reine Pamolarco

"I am currently teaching privately. I have also taught in a school here in Brazil. I will forever cherish my time at Akcent." John Arndt

"San Pablo Catholic University and Lord Byron School." Lirium

"I'm in Soest, Germany, teaching business English at the local technical university." Cathy Neistroj

"Teaching English in Russia. Loving it." Tatiana Dutova

"I am in Valencia, Spain and am working as a teacher trainer for a high school English textbook publisher." Jon Ivesoon
AKCENT International House Prague is one of only a handful of centres in Europe with over 20 years of experience in delivering Cambridge CELTA and Delta courses. As such, we boast an established in-house team of highly experienced teacher trainers and educators.
The school has about 20 classrooms, three of which are dedicated CELTA/Delta classrooms. A modern library with well-stocked CELTA/Delta sections, PCs, printers and photocopiers is available Monday to Friday. For a quick snack, there are vending machines with coffee, cold drinks and sandwiches.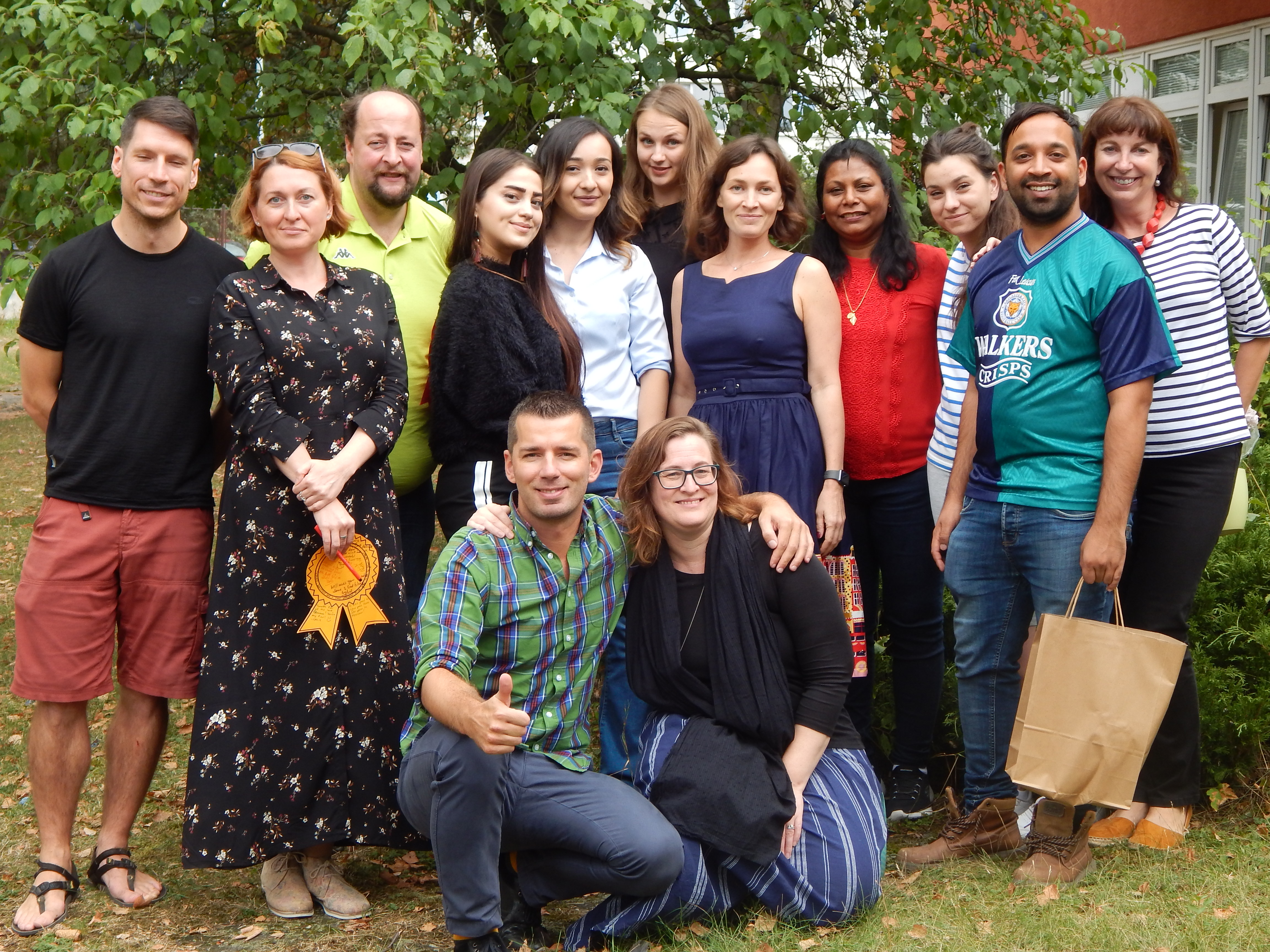 Book with confidence at IH Prague
If your face-to-face CELTA course has been cancelled due to COVID-19,
You can be automatically transferred onto a fully on-line CELTA course scheduled for very same dates.
You can select a later date for an on-line CELTA course.
You can postpone your participation to a face-to-face course until these become possible again.
If none of the options above work for you, you can be refunded the course fees. Refunds (minus 150€ admin fee) will be paid within 8 weeks after receiving your full bank details. Accommodation refunds will depend on whether or not the school has already paid the deposit to the landlord.
Tutors at this training centre
CELTA Student Testimonials
The tutors were great: friendly and approachable, passionate, competent and with a lot of experience in running CELTA courses. The Czech admin staff spoke good English and were also very competent. The course was very intensive as well as interesting because of the teaching approach. Definitely it was worth doing it for me not having any previous teaching experience. I now feel much more confident about starting a career in teaching English. Thank you Akcent IH Prague! G. Torre
I came to the course with quite a few years of previous teaching experience and had been warned by various people on the internet that this experience will not be valued and that, if I want to pass, I will have to pretend I know nothing. The opposite was true! My tutors respected my opinions and ideas about teaching and moved my classroom abilities to levels I didn't know existed. One of the comments I heard repeatedly was: "Ok, you have to plan. And it's useful to plan in detail. When in class though, don't teach the plan, teach the students." A.Zavadilová
My experience on the CELTA with IH Prague was well worth the time and the money. I actually feel I have grown as a person, because apart from learning loads about the obvious - teaching - the course has also helped me improve my time management skills. The tutors helped to make this intensive learning situation quite bearable with their patience, kindness and constant humour. Thanks! S. Persson