About the teacher training centre
IH British School Reggio Calabria opened its doors in 1964 as the first English language school in Reggio Calabria, and has been teaching generations of families ever since! 
The school is in the heart of the city, just a stone's throw from the beach, with breathtaking views of Mount Etna across the Strait of Messina.
In terms of teacher training, we run the Cambridge CELTA course, the TKT modules for local state school teachers, and tailor-made teacher training programmes on request. We also run the International House Certificate in Teaching Young Learners and Teenagers for our in-service teachers, in addition to a fully-developed in-service teacher training programme. 
With regard to English language courses, we offer a wide range of courses to learners aged from 3 through to adults, and ranging in level from Beginner to C2 (Proficiency). We also teach History, Biology and Maths in English in local state schools.
Marco and Patrizia, a husband and wife duo, took the school over from the founder, Patrizia's mother Christa, some years ago. Like Christa, they have always invested a lot in the professional development of the entire staff, and it was this philosophy of being a learning organisation that contributed to their decision to join the IH network in 2015. 
 
What is the CELTA?
The CELTA is a TEFL qualification which prepares you to teach English as a foreign language. You don't need any existing English language teaching experience or training. It's usually a 4 or 5 week full time course (but you can also take it part time).
Standing up in front of a class for the first time is a daunting prospect, so you need to make sure you have the skills you need to teach effectively. The CELTA prepares you for the classroom in these ways:
Taught sessions on methodology, lesson planning, language analysis and language skills. (In total, you'll have 120 hours of input.)
The opportunity to observe experienced teachers in a real-life language classroom situations – so you can see the different skills and techniques they use.
Teaching yourself – with helpful and detailed feedback from your tutors.  This practical experience is invaluable when you start your first job.
You'll have to complete some written assignments as well, but when it's all successfully completed you'll be ready for your first job and first students!
Read more about the CELTA here 
CELTA with IH Reggio Calabria
A fantastic thing about our courses is that we offer 3 days of additional training in teaching young learners (YLs) at the end of the course, completely free of charge! This is a great boost in preparing you for the job market.
Apart from that, there are many different CELTA providers out there, so what makes our course different? The quick answer to that is lots of things, but let's dig a little deeper.
The school – familial and professional
Embracing a familial atmosphere whilst maintaining the utmost professionalism is at the heart of the school's philosophy. On the CELTA course, this welcoming atmosphere means that our trainees can settle into their new environment seamlessly. Our dedicated CELTA team will gladly give you the support you need so that you can focus all of your efforts on the course. Come and meet us all!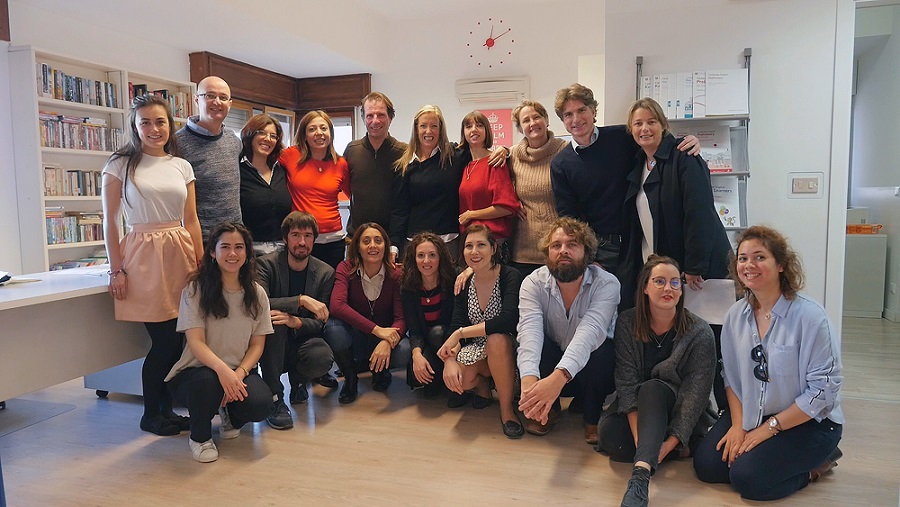 Teaching and training since 1964
IH Reggio opened its doors to the public in 1964 and has been teaching generations of families ever since! Its success can be attributed to its focus on quality language teaching, and that means prioritising teacher development. For our year-round teachers, attending fortnightly seminars, having regular observations and feedback and partaking in various other developmental activities is the norm. As a trainee, you will have the opportunity to observe these experienced teachers to complement the input that you will receive from your vastly knowledgeable course tutors. 
Extras at no extra cost
Our aim is to make a positive contribution to our profession by training teachers in best practice and ensuring that they are as well-prepared as possible for being at the chalkface. As the CELTA is focused on teaching adults, we felt that it was important to prepare our trainees to teach the ever-growing young learner market too. Such is our commitment to quality teaching that we decided to provide 3 days of training in teaching young learners completely free of charge!
A quiet place to focus on the course
Unlike bigger, more chaotic Italian cities, Reggio Calabria can offer you a peaceful haven in which to complete the CELTA whilst still providing the plethora of historical gems that its larger counterparts boast. On those days when the course feels a little bit overwhelming (we've all had them!), you'll be able to meander down to the city beach in all of two minutes and momentarily forget your woes drinking in the stunning views of Mt. Etna across the Strait of Messina. Undiscovered by the usual throngs of tourists, you'll be welcomed by the locals and privy to their unique traditions. You can also visit local towns and villages like Scilla below, with its sweeping beach.
Practice students
You'll be teaching our year-round students, made up of volunteers aged 16 or older. You will, of course, have the opportunity to get to know the students at the start of the course – no one is a stranger in our community school! They are usually Italian learners and are understanding of our trainee teachers' stages of development.
 
Tutors at this training centre
James Blackburn
I've been an EFL teacher for 15 years now, and have been involved in teacher training for about the last 10 years. I really hope that our trainees manage to love language teaching as much as I do. It's such an inspiring, creative and forward-thinking profession to be a part of, so I hope that our trainees can enjoy it as much as I have been able to.
Nicola Harwood
I have been an EFL teacher since 1991 when I took my initial teaching certificate. I have mostly taught in Spain and the UK. I became a CELTA tutor in 2009 and have worked on over 70 courses in a variety of countries such as Colombia, Ecuador, England and Italy. I am currently based in Italy where I combine teaching, examining and teacher training.
CELTA Student Testimonials
The CELTA course was an intense but marvellous experience. The tutors were always there to support and help all the trainees. C. Toscano
I was really happy with the whole experience. I would definitely recommend this course and location AND its teachers! D. Wallace