About the teacher training centre
IH Rome Accademia Britannica is right in the heart of Rome, close to the Colosseum, San Giovanni in Laterano and the main railway station (Stazione Termini). If you are interested in exploring Rome, this is a great base. 
We started teaching English to local adults and children more than 50 years ago. Our teacher training centre was founded more than 30 years ago mainly to cater to the needs of the local schools. It expanded to become the largest in Italy, in response to the growing demand for training courses in both State schools and private institutions.
IH Rome has been successfully training teachers for over 40 years and our team of six resident trainers have worked in a variety of contexts throughout the world.
Some members of staff have been with the team nearly all that time! Norman, Giovanni, Ian and the whole team, still enjoy welcoming all their English and teacher training students into the school. 
Over the years we have helped more than three thousand candidates from all over the world to start their careers in English teaching both in Italy and abroad. And we are looking forward to the next three thousand!
What is the CELTA
The CELTA is a TEFL qualification which prepares you to teach English as a foreign language. You don't need any existing English language teaching experience or training. It's usually a 4 or 5 week full time course (but you can also take it part time).
Standing up in front of a class for the first time is a daunting prospect, so you need to make sure you have the skills you need to teach effectively. The CELTA prepares you for the classroom in these ways:
Taught sessions on methodology, lesson planning, language analysis and language skills. (In total, you'll have 120 hours of input.)

The opportunity to observe experienced teachers in a real-life language classroom situations – so you can see the different skills and techniques they use.

Teaching yourself – with helpful and detailed feedback from your tutors.  This practical experience is invaluable when you start your first job.
You'll have to complete some written assignments as well, but when it's all successfully completed you'll be ready for your first job and first students!
Read more about the CELTA here 
CELTA Online with IH Rome
At IH Rome, we've always offered a variety of options for taking CELTA. Moving online hasn't changed that. You have the option of studying full-time (four full days per week on Zoom for five weeks); part-time (two full days per week on Zoom for 10 weeks); or blended (self-studying on a Cambridge Moodle with one or two half days per week on Zoom).
How can CELTA be completed online?
Before moving online we asked ourselves a number of questions, and these are typically the same questions our potential candidates ask us at interview. Through research and experience we have been able to answer them:
"How will the course work online?"
Well, with surprisingly few differences to face-to-face. We've made minor adjustments to our course timetables, primarily to build in Zoom training at the beginning of the course. We've also made minor adjustments to activities we do in input sessions because some activities lend themselves better to face-to-face settings. However, this has also meant we've utilised a number of online tools we weren't previously using. Throughout the course we discuss how and when we'd do things differently if we were in the face-to-face classroom, although we have been pleasantly surprised by the ease with which the teaching tools candidates learn on the course can be transferred from one context to another.
"Will I have the same tutors?"
The same team of six resident trainers are supporting all our students through the online CELTA, from their base in Rome. We are not physically together, but we still feel together.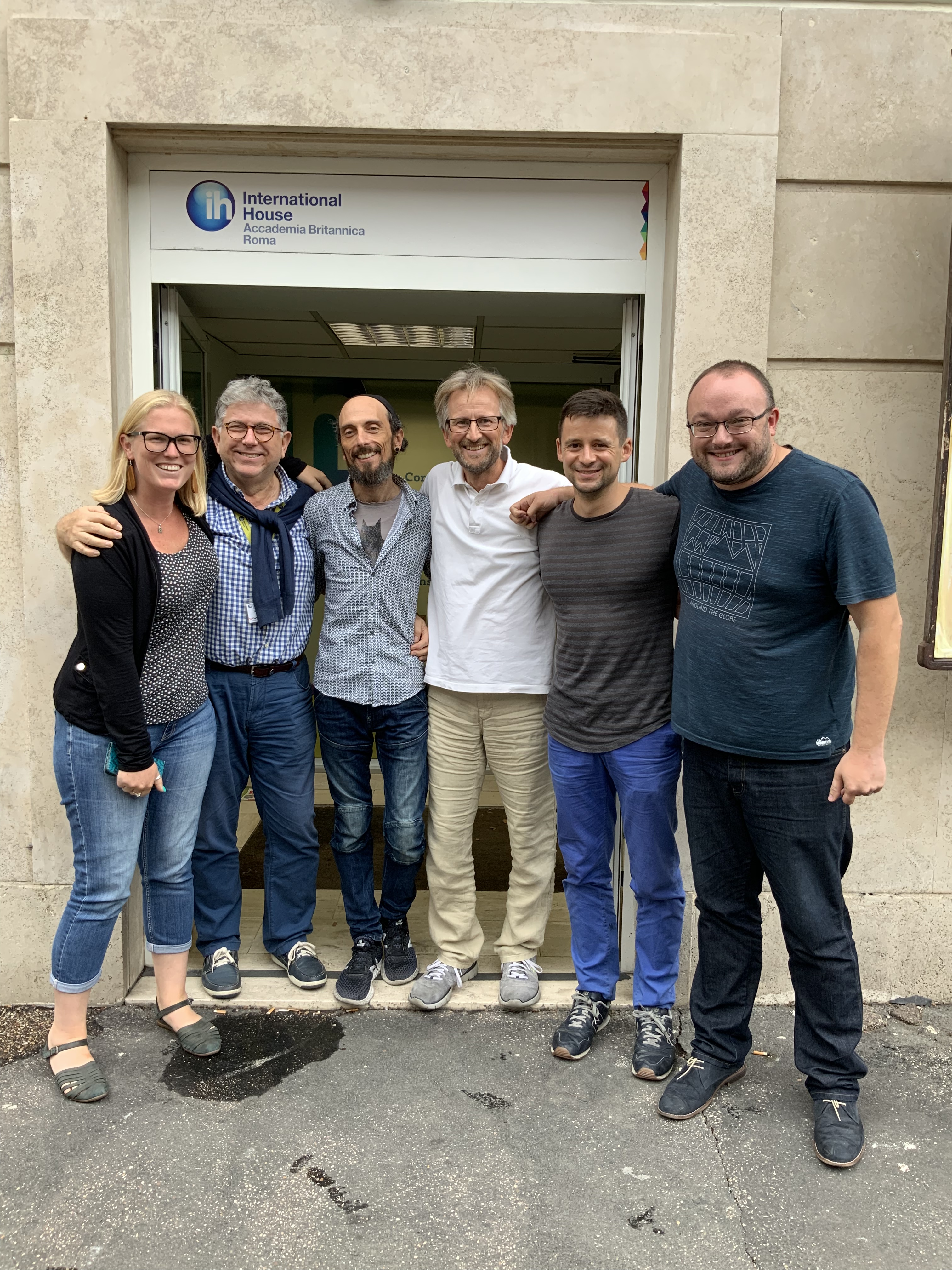 "Will candidates and students bond as they would face-to-face?"
It has been wonderful to see that the rapport between tutors, trainees and students hasn't been compromised. We actively encourage candidates to create a WhatsApp group to support one another and chat as they would if in a coffee shop outside of the school. Trainees also meet in their own Zoom meetings for further practice and to have some well-deserved down time to catch up with one another. We've had great feedback from students too, who often find that they are more engaged in online lessons.
"Is learning online boring?"
In a word, "No"! Don't worry, we won't be lecturing at you for hours, and neither will you be lecturing to your students. Despite working online, the course will be just as communicative and collaborative as any face-to-face course. Zoom allows for pair work just as much as face-to-face teaching does. In many ways, pair work is more easily managed on Zoom as there are fewer distractions, with students in their own pairs in their own virtual rooms. Teachers can visit the learners to make sure they're on task and to support them when needed. As tutors, we'll ensure you're also learning in a communicative way, as we teach you in much the same way you'll be teaching your learners.
"Will my teaching skills be transferable to the face-to-face classroom?"
Absolutely! You will be teaching lessons using all of the same skills you would face-to-face. Your tutors will also be assessing you on exactly the same criteria. As with face-to-face courses, all your students will be real students, and, now that we're online, we're able to welcome students from all over the world.
"Will I receive the same certificate if taking the course face-to-face?"
Yes! Whether you do your course online, face-to-face, or blended, you'll receive exactly the same certificate from Cambridge Assessment English on successful completion of the course.
Like the face-to-face CELTA course, CELTA Online has a significant practical component. You will complete 6 hours of assessed teaching practice in groups in an online classroom, from the comfort of your home! 
More details about CELTA 100% Online
What are you waiting for? Join us for CELTA at IH Rome from the comfort of your home!
CELTA ONLINE student testimonials
"If you want to be a professional English teacher your first step is taking CELTA, my English professor recommended, so I had this course in mind, and when I saw the online course option - I knew this was the right one for me! 

I was absolutely right! The 5-week course was so very productive - there was no commuting time and every minute was useful and purposeful, plus this is a really professionally developed course aimed at making you a real teacher. We covered topics such as teaching skills and language,  professionalism,  and language awareness just to name a few. This was both a challenge and a very fun experience because the trainers were so friendly and supportive. In my opinion this course is intensive and the best way to take it is from the comfort of your home." Bahar K, online CELTA graduate 2020
"I simply loved the CELTA Online with IH Rome and my great and professional tutors, Flo and Chris: they were supportive, providing constructive, accurate and punctual feedback for each of our activities. It was a challenging and yet unforgettable experience." Paola B, Online CELTA graduate 2020
My online CELTA course has been quite an intense journey, the stress levels and the roller coaster of mixed feelings made it quite a wild ride! But I feel I left the course enriched and I really appreciated my tutors' support. They guided me throughout the course and now, that I can finally sit back and think about the big picture, I'm quite satisfied with the success I managed to achieve despite the difficulties. As a working mom of two, stuck home during the lockdown, I also found very helpful to take the course online, it made my life easier and I had to face the challenge to learn how to teach online and this skill, in the end, will come in handy for my job too. Go for it!  Valeria A, online CELTA graduate 2020
CELTA online has been a great experience, because it totally felt like I was not missing out on anything the regular course would have offered me. It was very well-organized and the tutors were present and engaged with every student, which I deeply appreciated. If anything, being able to attend the course from the comfort of my own home made it easier to enjoy the lessons. In fact, doing CELTA on Zoom gives you the opportunity to relax and a bit more between sessions, which can be a bit challenging and tiring. Overall, I definitely recommend CELTA online!" Annachiara C, online CELTA graduate 2020
CELTA at IH Rome Accademia Britannica
We are professional, welcoming and caring at the same time. Our students' needs and wellbeing are of paramount importance to us.
Course participants have access to our fully equipped Study Centre and its extensive library of materials for lesson planning and reference. Trainees are also provided with their own room that includes photocopying and IT facilities, and Wi-Fi is available in the whole premises.
We have been a CELTA centre since 1975 and were one of the first centre in the world to run the CELTYL course back in 1997. We have a team of 6 resident trainers and we have trained about 4,500 teachers of EFL so far. 
We also hold our famous "After CELTA" tea party!! 
What will fellow students be like?
We have a very mixed crowd of trainees on our courses, and the students' mix is different on intensive or semi-intensive courses.
Students' age and experience go from post-graduate students (or even younger) willing to travel and work abroad, to very focused individuals who choose teaching as a career as well as more mature people looking for a career change.
The main asset in such a variety is the experience of our resident trainers who always manage to build a strong group bond.
As a long-term established centre, we receive request from schools in Rome and Italy to advertise job openings to CELTA graduates. It is not difficult to find a job as an EFL teacher in Rome, and we give advice (and warnings!) to our trainees.
CELTA student 

testimonials
"The course was worth every penny, and I would recommend this specific language school to anyone else interested in taking a CELTA course.  Thanks for the experience! " Daniel B, CELTA graduate
"It was challenging, fruitful and inspiring. I learned a completely new perspective on teaching and the structure of the course was absolutely perfect to make me achieve all that, especially the fact that we were immersed in teaching practice (mine or of my colleagues') every single day!" Lisa E, CELTA graduate
Tutors at this training centre